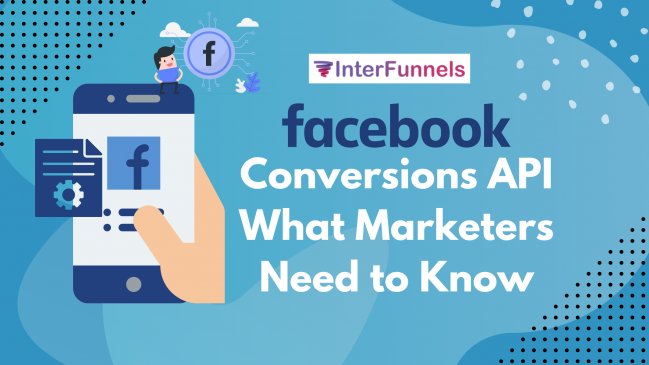 What Is Facebook Conversion API?
Ads platforms like Facebook and Google heavily rely on visitor's tracking data to accurately show ads to the right target audience. They want their advertisers to get the best ROI so they have to collect data about visitors of your website or funnels. Most of this data comes from the browser. Ads platforms use JavaScript code aka PIXEL CODE to track the visitors.
However, this is going to change very soon as Apple has released a new IOS 14 update that will block any pixel code from executing on behalf of Facebook.
Facebook Conversion API gained much popularity after IOS 14.5 update by Apple where they announced they will not support FACEBOOK pixel events. That dropped a bombshell on the entire digital marketing community and all sales funnel builders started migrating to the new Conversion API as an alternative.
Solution? Facebook Conversion API
Now that you no longer can track Facebook Pixel for IOS devices, the only solution is to use Facebook Conversion API. A conversion API makes a server to server call giving facebook data it needs about the visitor, bypassing the traditional browser.
In our experiment, CAPI turned out to be more accurate than Facebook Pixel because of a variety of reasons. For example, sometimes you installed the wrong code on the wrong page. Or your visitors have blocked javascript from executing OR your page builder messed up with your landing page code and you have JavaScript errors on the page.
Not anymore, all these problems are gone since we started using CAPI. Now our customers are enjoying better and accurate conversion stats on their Facebook Ads dashboard.
InterFunnels Implements Facebook Conversion API
InterFunnels has always tried to lead the innovation from the front in the sales funnel world. We are the first to implement CAPI even before ClickFunnels. Other funnel builders also seem to be taking a long time catching up with the update but not InterFunnels.
Another reason why InterFunnels CAPI implementation stands out from ClickFunnels and other builders is that InterFunnels allows you to have multiple API integrations for multiple funnels. For example, you have 10 funnels and for each one, you have a different API credential and list of events. You can use 1 API credential for 1 Funnel. This is something you can't easily do inside clickfunnels without getting another clickfunnels account. But using InterFunnels makes your job very easy to keep things separate for separate funnels.
Facebook Conversion API Events :
There are about 17 standard Facebook pixel event codes, which you can use on your websites.
Lead
Purchase
Adding payment information
Adding to cart
Complete registration
Search
Checking out
Adding to Wishlist
Contact
Donate
Customize product
Find location
Schedule
View content
Subscribe
Submit application
How to Setup Facebook Conversion API using InterFunnels?
Watch this complete video How to implement Facebook Conversion API for your sales funnels
Interfunnels is the sales funnel builder that also offers a variety of business tools like shopping cart, email autoresponder, and affiliate management software. You can generate sales, leads and can build your audience. You can also build your online store through it. The most exciting thing is you can implement multiple facebook conversion APIs for multiple funnels and fire events on every step of the funnel.
Step 1: Go to Funnel STEPS inside your InterFunnels Account.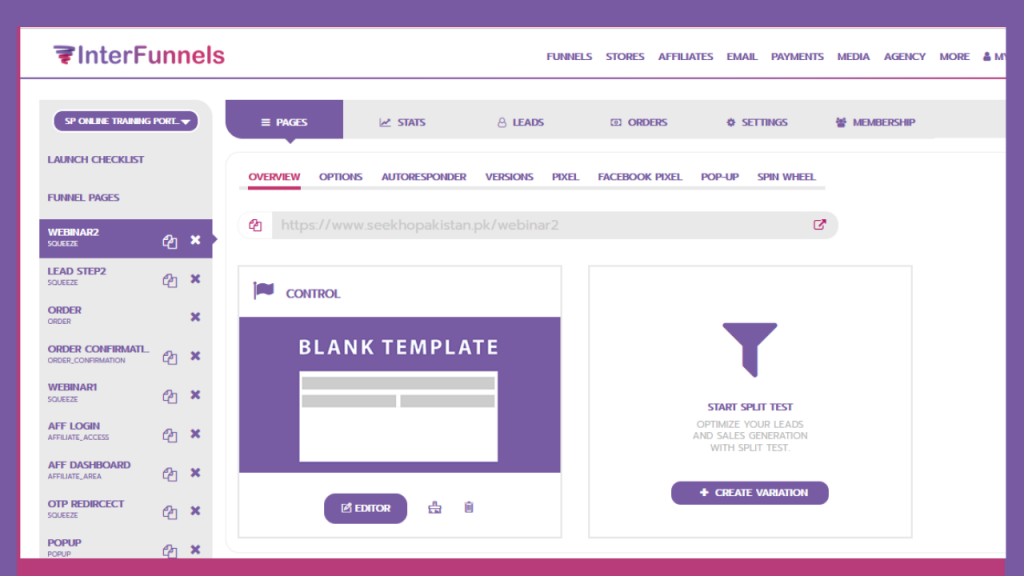 –Go to Funnel Settings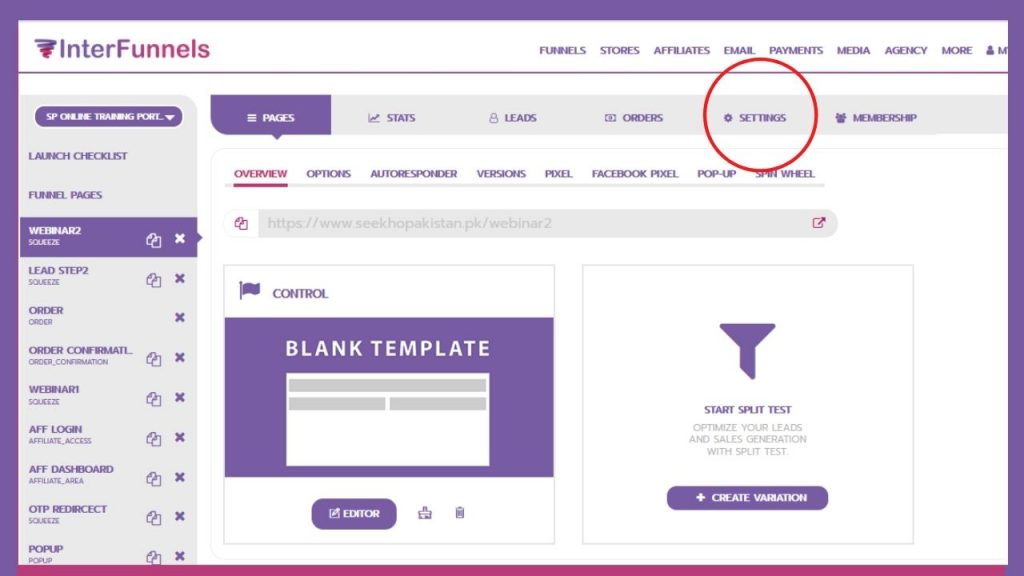 Click on PIXEL tab
Then click on Add Facebook Conversion Pixel button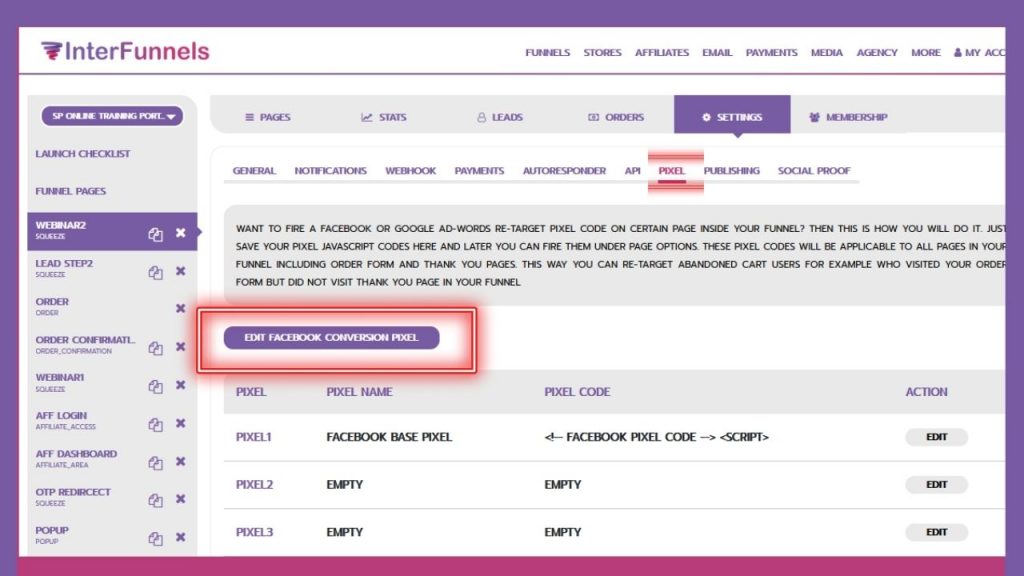 -Paste PIXEL ID and Access Token in the appropriate fields.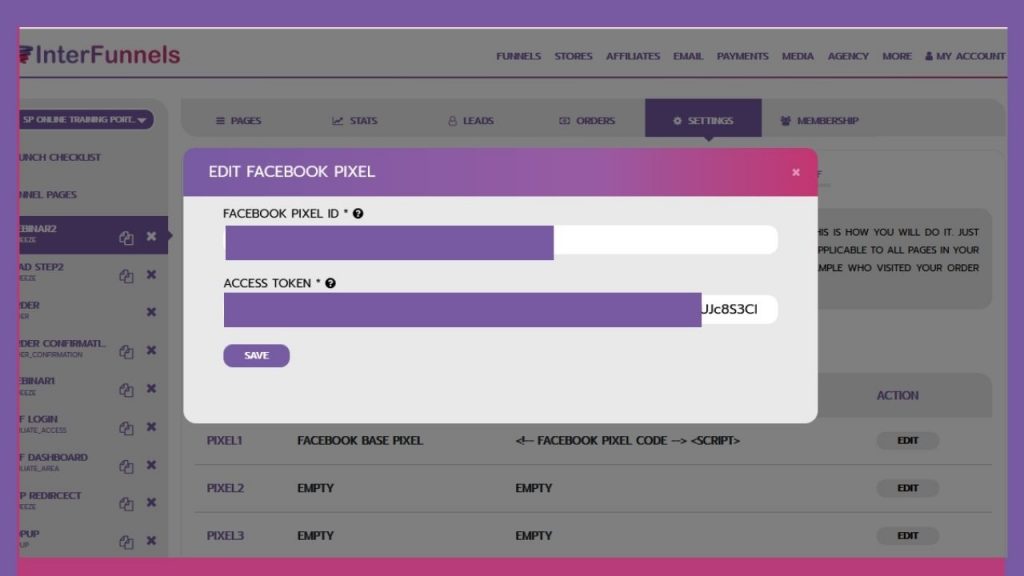 Click on PAGES Tab
Then click on FACEBOOK PIXEL tab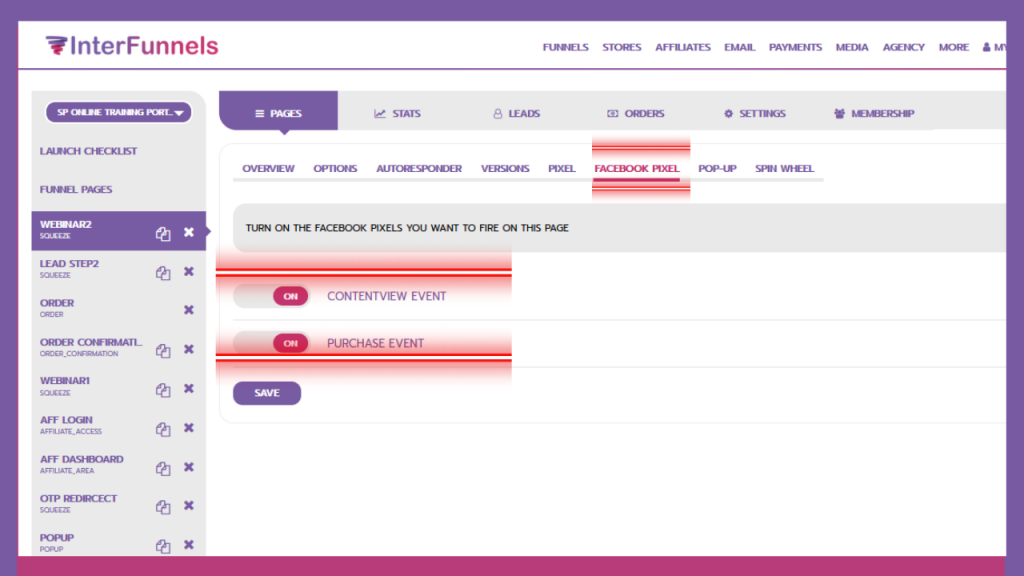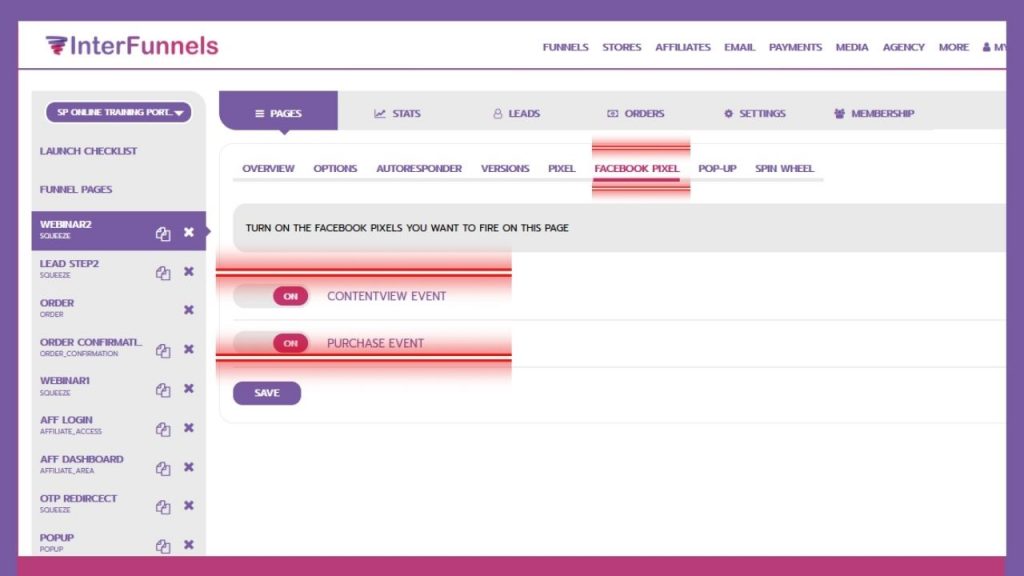 Then enable the events you want to fire on this page when on every page visit
Repeat this step for all pages inside your funnel
-Click on Save
Conclusion
In short, conversion API's and Facebook Pixel is a great and very impressive tool for marketers and advertisers. Interfunnels is the only sales funnel builder which provides the facility of Facebook Conversion API integration. It is globally used by advertisers to customize ad experience and to take out the best of it.
You will get this unique experience with data privacy. If you will connect conversion API with your sales funnel builder then results will be recorded more accurately.
Click Here to start your InterFunnels 14 days trial. If you are an Ads agency with multiple clients, you can try our White Label Funnel Builder plan where you can host multiple client accounts under one Agency dashboard.