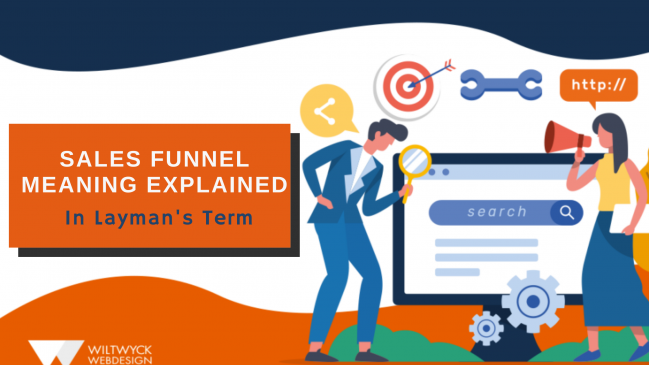 What Does the Term "Sales Funnel" Really Mean?
The term "Sales Funnel" has different meanings in different contexts.
Here we list some of most common context for the term "Sales Funnel"
Sales Funnel Meanings in Terms of Technology & Digital Marketing
When we talk specifically in terms of technology or digital marketing, it is important to understand we are actually comparing a marketing model with another.
There is a website marketing model, and then there is this Sales Funnel marketing model.
To understand the difference, here is the comparison chart.
[Comparison chart of website and sales funnel]
| | |
| --- | --- |
| Website | Sales Funnel |
| Takes long time to make | Usually gets done in 5 mins |
| Has too many pages | It has limited steps 5-7 step |
| Has no steps | It is step by step approach |
| Expensive to develop | Lower cost than website |
| Lower conversion rate | Gives you 4 times better conversion rate |
| Multiple products | Usually you can sell a single product with multiple upsell and order bumps. |
| Not easy to duplicate | Funnels can be easily duplicated |
| Not easy to update | Funnels are easy to update |
| Requires lot of plugins | Funnel doesn't require a lot of plugins |
| Requires software (wordpress) installation | No software required. Simple signup needed |
| Requires a team to maintain | No team needed to build a funnel |
| Cannot be used for lead generation | Can be used to generate leads |
| Pages load slow killing your conversion | Gives you better page speed and conversion |
| Not suitable for selling digital products | Ideal process for selling digital products such as ebooks, audio books and online courses |
| | |
This gives you 20 good reasons to switch from a website/shopping cart model to a sales funnel model.
In technical terms, sales funnel meaning is a kind of website with some steps and flow. A sales funnel is a website with NO sitemap. It has a linear path for visitors without any subpaths or directions.
Yes, there are decision trees in terms of UPSELL and DOWNSELL but they are still linear in nature because they try to sell you different variants of the same product.
SALES FUNNEL VS WEBSITE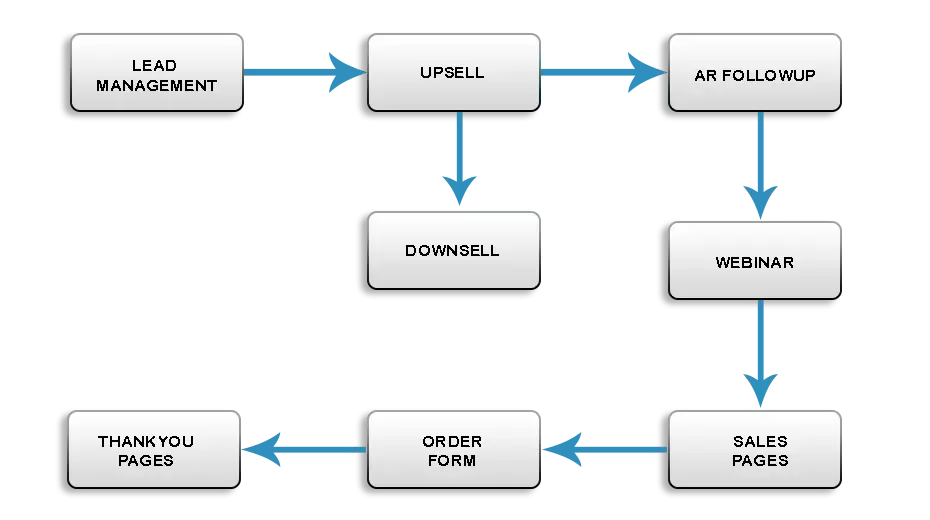 In Terms of Marketing Process
Creating a buyer's persona will help you to identify which content is needed at which stage of the sales funnel. Understanding your buyer's information will help you to better evaluate the concerns of your visitors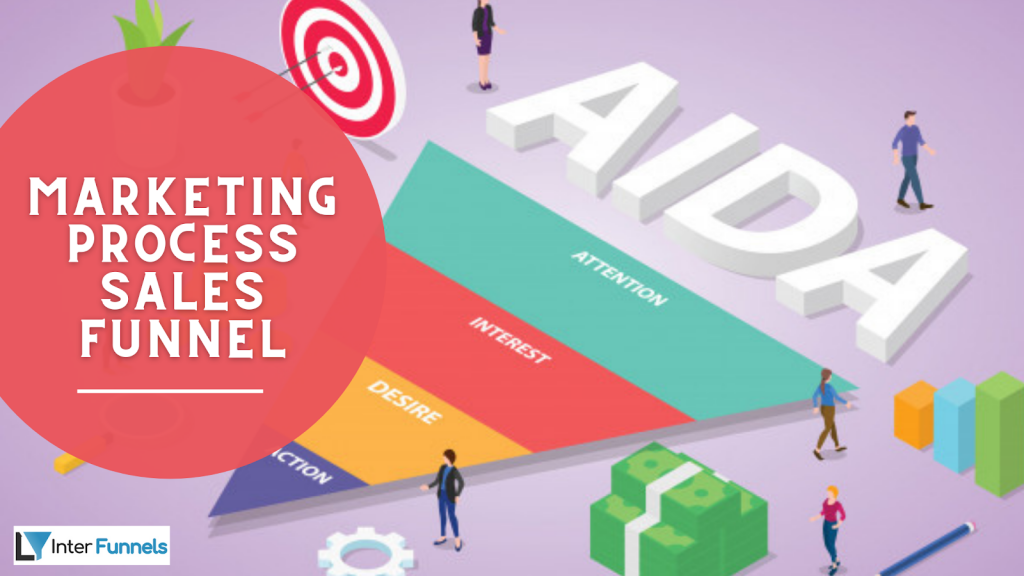 Awareness stage
when you create a sales funnel, the top stage of the marketing sales funnel is the Awareness Stage. The purpose of this stage is to improve the presence and visibility of your brand or product and to collect leads. In this stage, you bring attention to your brand.
Don't push your visitors to buy your service at this stage.Here, you should focus on sharing valuable information, ideas, advice, and solutions.
People love to get more updated information regarding their product or service.
This stage is similar to the problem/need recognition stage.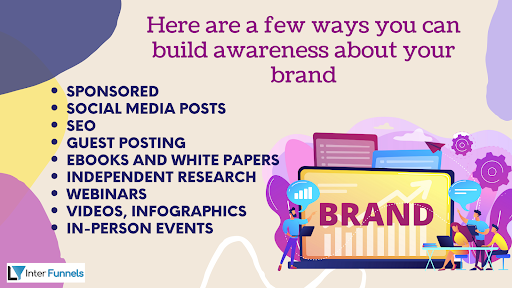 Interest
After knowing your brand, customers are more interested in information which will help them to solve their problem. They need more information to move towards the next step of the sales funnel.
After passing through the awareness stage, your customers will enter into the interest and evaluation stage. You have got the lead's attention. Your main aim is to build a good relationship with your lead. A good content idea will help in this stage like:
Chatbots
Social media accounts
Retargeting campaigns
Free trials
Blog posts
Social media accounts
Email campaigns
Desire
At this stage, you have to get your leads attention and make them interested in your brand, and finally, persuade them to make a purchase. Your lead is ready to become your prospect.
You should include the following things in your desire stage
Pricing pages
Any discount coupons
Customer reviews
Webinars and demos
Any free or paid consultation
Case studies
Product comparison
Action
This is the final stage, where all the actions happen. You have nurtured your lead and are ready to finalize the deal.
Your goal is not only to close the deal and make a purchase but to provide them some educational material.
Make a follow-up emails, webinars, any special offers, packages to the action stage. Once you have built your customers' trust and they are satisfied, they will make a purchase again from you. Don't push them to upsell right away.
In Terms of B2B sales
A B2B sales funnel is very different from a marketing sales funnel.
Here is why..
Corporate sales process is not like small businesses. They have a very systematic and long term sales process. The billing and payment cycle comes at a very late stage of the customer onboarding.
In other words, in corporate sales, you might have already had a lot of interactions with customers before you ever see the cash in your hand.
That's why a Sales Funnel for B2B is not like a sales funnel our digital marketers are creating every day and running Ads on Facebook or social media and start getting customers in the next 5 minutes….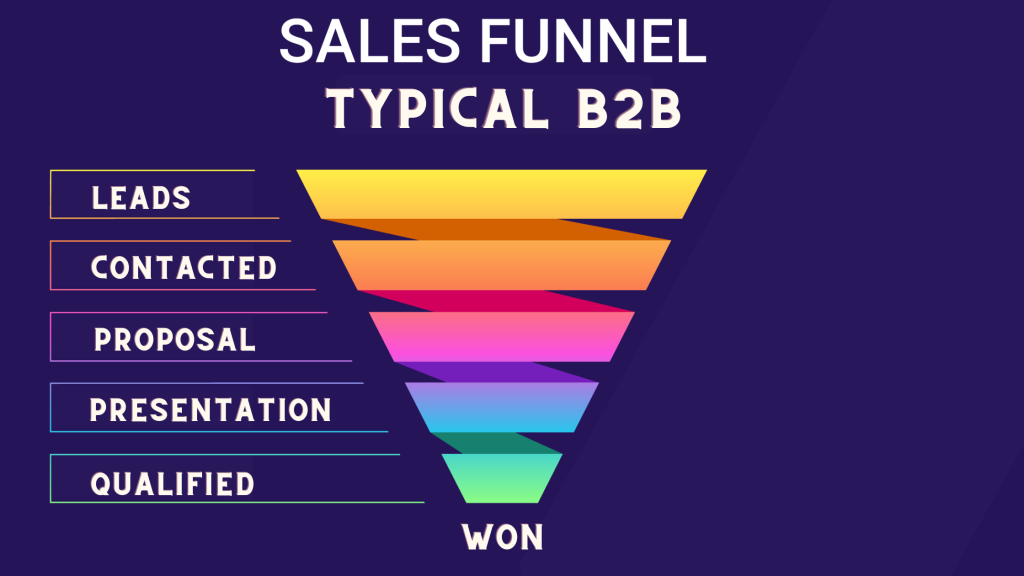 Here is a typical B2B sales Funnel
LEAD
CONTACTED
PROPOSAL
PRESENTATION
QUALIFIED
WON
Conclusion
Term "Sales Funnel" has different meanings in different contexts. But nowadays it is widely used for "Increasing Online Sales through a step by step process".
If you are interested to increase your sales through a systematic tested and proven then your first step is to JOIN INTERFUNNELS 14 Days Free Trial and start testing your ideas.