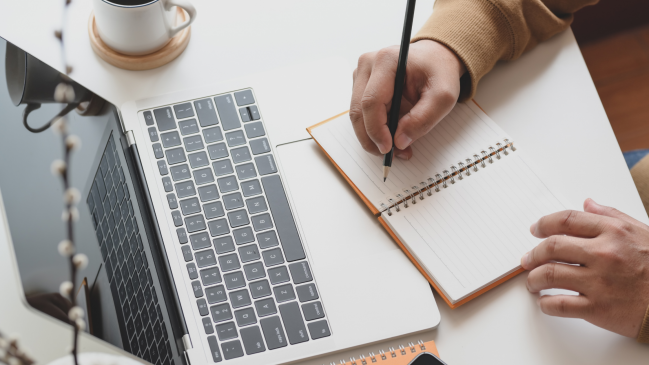 When you talk about selling your product, the most important thing which affects sales is the "Quality of the Product". If you own a good product, advertising and selling it to targeted audiences will be very easy.
In this article, I will briefly discuss the main and most important part of the sales copy, that is "Headlines" or "Headings".
How to Craft an Award-Winning Headline?
Let's discuss in detail how we can write an award-winning headline that will grab readers' interest.
Interacting with Your Targeted Audience
If you will ask any marketing professional to market your product on the internet. The first question they will ask you will be about the targeted audience. You should know basic things about your audience for example age, nationalities, gender, locations, etc.
You would like to know where your users come from and how your product is a solution to their problem. If you have all this information, the chances of writing compelling headlines will be excellent.
Using Triggering Words
You should always use the words that are important and are triggering for readers. Those words should have a positive impact on your reader.
Let me explain in detail:
"FREE" is quite a triggering word. So, if you are planning to give a product or service for free then include this word in your headline. It will instantly grab readers' interest and lure them to read more.
"New" people want new things on a regular basis. Like any new software product, any new feature, a new blog, new idea, new strategy, new techniques, new house, now applications, new trends, new cars, and so on.
"Proven" is another triggering word that will ignite the audience. If you are giving any piece of advice, sharing any strategy, or dealing with any information.
You will see many posts which will have this word in them like,
"4 Proven Strategies in Management"
"Secret" word inspires a sense of wonder. It makes people more curious. Use the word secret in your headlines, call to action buttons, lead magnets.
Inspirational News Headlines
You can find hundreds of inspiring and different news headlines on https://www.bbc.com/news
Some Tricky Headline
Use some tricky words. Start your headline like "Do You Want To Earn Online Money" or "Do You Want to Be A Millionaire", "14 Facts You Should Know…."
Questions, Benefit and Purposes
Your main goal of the headline is to hook up with your reader. Always give your reader a very good reason for reading your content. If they will stick to your content, this will develop their interest and they will ultimately buy your product.
How to do this
The moment when your reader is reading the headline if they will realize that your product is much better than others in the market. They will hook up with you.
Rather than asking questions, make forceful orders to do something like "Become A Millionaire in Less Than 1 Year". In this way of commanding you are pushing your readers to take action
Another way is asking a question like "What Would You Do If You Became Rich Overnight", How Would You Feel If You Look Like 20s In Your 40's"?
Another way is to highlight the worth of your product. By showing its benefit.
In short, using your headline should have at least one major benefit of your product like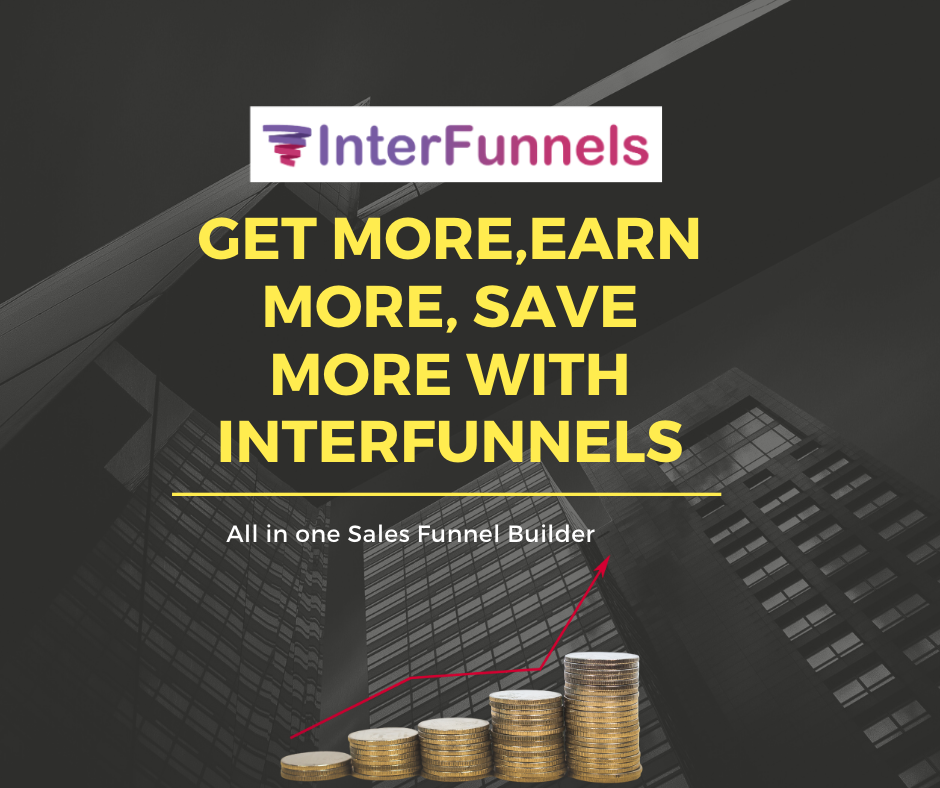 In this above example post, the benefits of using software product InterFunnels benefits are silently shown like GET MORE, EARN MORE, and ultimately SAVE MORE….
How to Write Headings For Sales Funnel
If you are sad and thinking that 3000 people are coming into your sales funnel and only 5-6 are getting converted into real customers. Then you are wrong. This is actually how the sales funnel works. It filters people of similar interests. Non-serious buyers will walk away and only those will stay who are going to give you dollars.
The headline in the sales funnel is one of the most crucial parts of the sales funnel. The first step is to create headings. Best headlines have two qualities: short and to the point.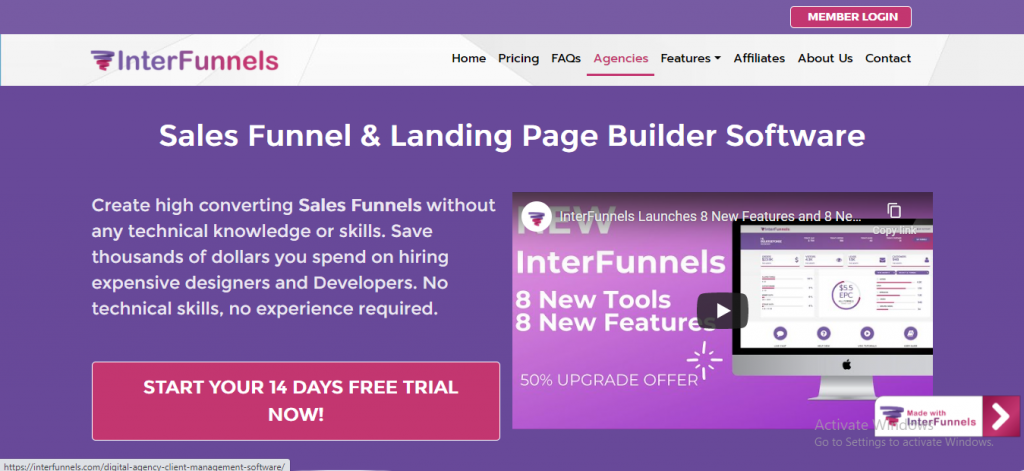 This is the sales page of InterFunnels, you can see the headline is not wasting any space. And the subheading is also very appropriate. This heading and subheading is conveying almost all information to the reader
You can use this tool, heading optimizer to check your headings.
you sales funnel page should answer these questions
"Can you trust me?"
"Can you be loyal to my brand?"
"What is it about my brand that makes it worthy of your time, attention, trust, and loyalty?"

Example
For example, you have a beauty services website that does all beauty clinical services. like facials, makeovers, nail jobs, etc your heading should be showing something special to people like
"Get Full body Painless Wax less than hour"
In the above example, the attractive thing for people would be painless wax technology and time-saving.
Sales Page Headings
If you analyze different sale pages who will see they focus more on benefits not features. Your benefits should be listed on your homepage in form of bullet points. For example
Let's say you are selling diet medicines and you highlight its benefit which is weight loss. But you have to highlight the benefit, which is you will be more confident.
Use the right language
Use the right language, your customers want you to understand them.
Address you, customer, by using "YOU"
Make them feel like they are part of your family, use "We"
Tell them relevant stories
Use some "Greed Words" like
Giving Them a good offer.
Some buyers will buy in one minute as they land on your sales page but few of them will find so many reasons for not buying from your page. Give your customers some good discount offers so that they will not leave without buying. Or offer them some lead magnets or coupon codes for a limited time.
Developing visitors trust.
According to a survey, 90 percent of customers only buy from those people whom they trust. There are different ways you can build people's trust. Few of them are
Offering proof of any claim which you have offered to them
Show and highlight testimonials of more successful customers
Including social proofs that can defend your reputation on social platforms
offering your customer a money-back guarantee offer.
Few Headline Sample Template you can use
News-Style Headlines
1. Reclusive Internet Tycoon Finally Reveals Secret to Success in [Name of Niche]
2. [Your Business] Launches Powerful New Product that Promises to Change the Market for [Product Niche]
3. After [# of Years] Years, [Product Niche] Will Finally Witness a Major Innovation
4. New Product Shakes Up Market for [Product Niche]
5. Age-Old Secret Helps People to Become More Successful in Their
Question-Style Headlines
1. Are You Ready to Get Serious About [Job/Product/Task]?
2. What Would You Do If You Became a Millionaire in Just One Year? If You Get [Your Product], You Might Just Have to Answer that Question.
3. Do You Know the Secrets to [Hobby/Profession/Task]? Find Out What You've Been Missing.
4. Your Co-Workers Know Something You Don't. Are You Ready to Learn the Truth?
6. Are You Ready to Transform Your Hum-Drum Life into a More Positive, Successful, Worthwhile One?
Benefit-Style Headlines
1. Learn the Top Five Things that Science Suggests You Should Do to Become Successful at [Career/Business].
2. Use My Tested Methods for [Achieving Goal #1] and [Achieving Goal #2] in Just Days!
3. Finally Experience the Benefits of Using a Real, Effective, Authentic [Type of Product].
4. There's an Important Difference Between [Your Product] and All Others: [State Biggest Benefit of Your Product].
5. Change Your Life Overnight with [Name of Your Product]!
Trigger Word Style Headlines
1. Seven Explosive Secrets that are Guaranteed to [Product's Promise]
2. Sick of Paying Outrageous Amounts for [Niche Product]? Download Your Copy for Free.
3. You Might Be Shocked to Learn What Science Has to Say About [Niche]
Conclusion
Writing a good sales copy is not a simple task. The most important and difficult thing in writing content in the sales funnel is writing its headings. We have given you a few pieces of advice and guides through which you can craft your headings easily.
Writing is no doubt an art. You should be very sensible while choosing words. you need to create meaningful communication through a small piece of information. These triggering words are powerful words too. Your words can turn a simple and boring blog post into an amazing and attractive masterpiece.
Please share with us which triggering words do you use for your blog post.