Making money online is not an easy anymore. Gone are the days when you could jump into anything related to online business and fortunes will follow soon after.
But still there are some avenues available for those who have the right skills. The freelancing has created a boom for online job hunters. Its great if you are a freelancer, you can earn, chill at the same time.
Today article is about earning money as a freelancer through sales funnel.
Who is a Freelancer:
A freelancer is a person. Who is self-employed and offers his service for money? He can be from anywhere in the world. You can sit on a beach and still can work. Isn't it amazing? A freelancer can easily choose their preferred way of working.
There are various websites which are offering learning courses like Udemy or Eduonix. You need to have a good set of skills and of course a good internet connection with a high-speed laptop. You can apply for those jobs which are convenient for you.
But one thing you have to be very honest and punctual with your work. you have to complete your assignments in given time period.
If you want to grow as a freelancer then first thing is that you have to select any specific skill set.
In this article, I am talking about how to be a sale funnel builder and work as a freelancer. If you choose to be a funnel builder then its awesome. You have so many opportunities to earn money online. I am discussing a few of them, below but before dive deep into the topic let me give a basic introduction to sales funnel building.
What is Sales Funnel and How Freelancers Earn Money Through It
A sales funnel is a step by step process which someone takes in order to become aware of you and your product or service. To becoming a paid client.
The concept of funnel is to have as many people aware of your product as you could, but filter them out so that at the end only few of them actually get converted into paid clients. And they are your DREAM CLIENTS
You create an ad and about 100 people see it. But only one or two of them becomes your client. So, it is wider at the top and shrinking right down at the bottom.
Sales funnel has 4 Stages
A typical sales funnel has four stages. Read this article to know more about stages
Example
Let's say you make an ad and about 850 people gets aware of your business or service. Out of those 850, there are 50 people who will be interested in your product or service. Out of those 50, only 15 people will talk about your service and at the end only 2 people will place and order with you.
See the image below for better understanding.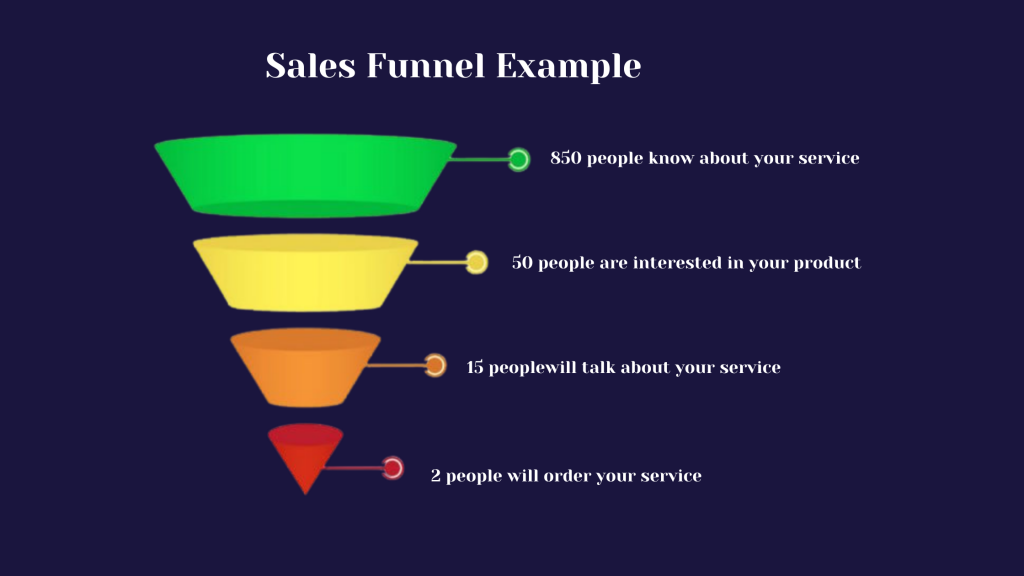 Let me explain in detail now how can you earn money from sales funnel as an agency or freelancer
1. Get an Agency Account with InterFunnels and Resell to Your Clients.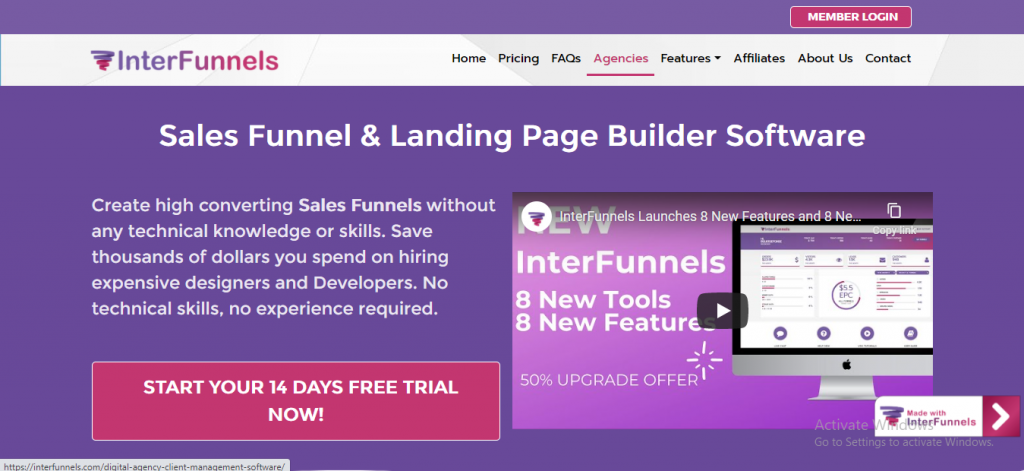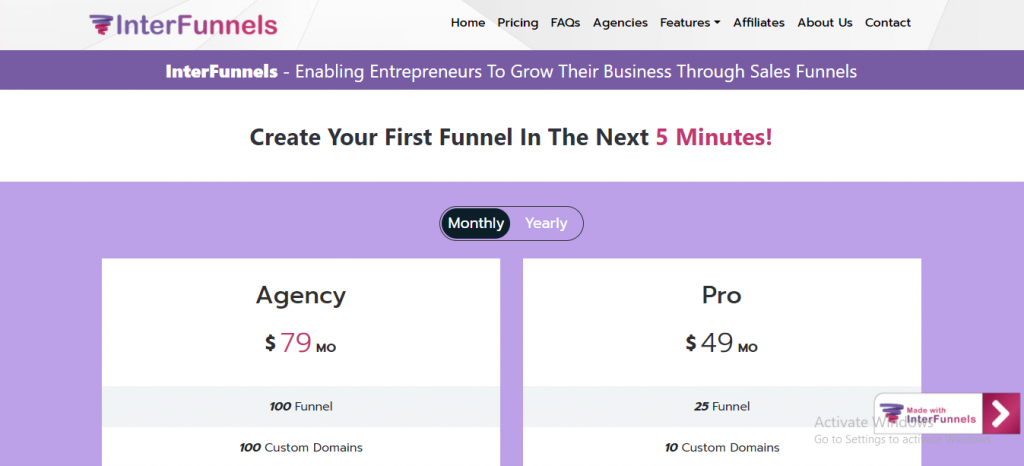 For $69/Mo You can get 100 funnels and you can have 10 clients accounts. You can charge your clients whatever you want. This is how you can earn some extra money as an Agency through InterFunnels.
2. Hunt Sales Funnel Clients on Fiverr
A lot of people are now moving towards sales funnel instead of traditional websites. This has created a huge influx of new funnel projects being posted on fiverr.

You can see the gig I have shared. People are working as funnel builder on fiver. They make funnels for their clients, hence earning a handsome amount of money.
3. Hunt Sales Funnel Clients on Upwork
If you talk about other freelancing platforms, Upwork is one of the most famous platforms. Let's see how can you earn through Upwork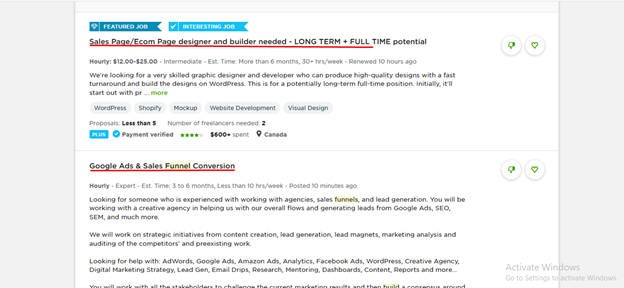 4. Sell Copy writing Services to Sales Funnel Clients
You can also sell copy writing services to your client. You can see there are so many jobs of copywriting sale funnel in the market
5. Sell Video Editing Service to Sales Funnel Clients
You can also work as a video editor for sales funnel clients. Look at the image below. People are already working in this domain and making a fortune. They are easily charging up to $100 per hour for video editing services.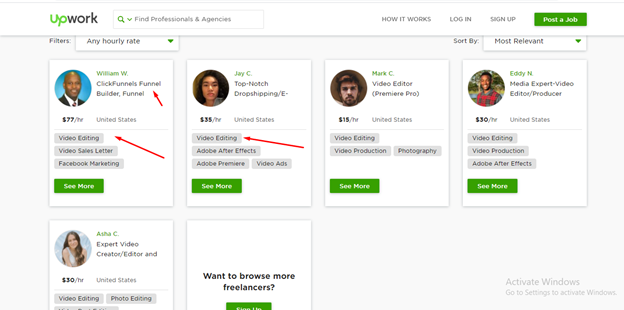 6. Offer Facebook and Google Ads Service to Sales Funnel Clients.
Facebook ads and Google Adwords are some of the most powerful paid marketing channels. You can work as an ads manager for the sales funnel. Like this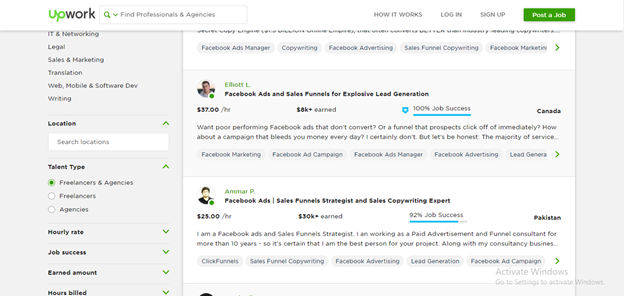 Conclusion:
I have discussed different ways of earning money by offering sales funnel services. The simplest one is to buy agency version of InterFunnels and resell it to your clients. You can charge your clients up to $29 monthly for using this sales funnel builder. Isn't it amazing and super easy? We are providing a lot of guides and helps about funnel building through InterFunnels. Also we have 24/7 customer support so you can talk to our representative for any assistance.